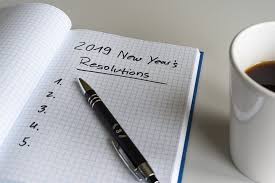 10 Resolutions HR Departments Should Make for 2019
January is a popular time for resolutions, not only for individuals, but also for businesses. All of your departments can benefit from reviewing processes and decisions made in the past year, but HR in particular should be looking at what they can learn from the last 12 months.
By starting 2019 with strong insights and goals, HR departments can ensure that they don't repeat mistakes and, more importantly, that they can retain your company's top talent. Ten experts from Forbes Human Resources Council offered some smart resolutions your HR department to make for the year ahead.
1. Set Clear Goals And Review Them Often
To set up the department for success for the next year, team members need to come together to review the past year and determine what goals they would like to accomplish in 2019. If everyone on the team has input, they will be aware of what needs to be accomplished over the next year. Once the goals are determined, have follow-up meetings quarterly to review tasks, so the team stays on track. – Debi Bliazis, Champions School of Real Estate
2. Study Your Turnover And Learn From It
Employee engagement is key to success in today's market, so take a hard look at your turnover from the past year. Who did you let go and why? Did many people leave voluntarily, and if so, did they go to competitors? The answers to these questions will help you make improvements. For example, you might have to update your onboarding program and provide better training or mentorship opportunities. – Edward Fleischman, The Execu|Search Group
3. Base All Decisions On Data And Facts
Resolve to build quality and metrics into processes, as well as data and thoughtfulness into decision-making. This will ensure you are looking at the factual — not personal — aspects of a process and decision. This shifts the focus on what went wrong and why instead of who messed up. – Ushma Mehta, KenSci Inc.
4. Prioritize Employee Engagement
At the end of the year, companies are typically focused on meeting numeric goals, so some may forget about their most valuable resource — their employees. Since employee disengagement costs companies billions of dollars each year in lost productivity, HR should communicate with employees individually through one-on-one meetings or retention interviews to help ensure they feel valued. – John Feldmann, Insperity
5. Align HR To Business Priorities
The new year presents an opportunity to revisit processes and decisions made in the past 12 months to reflect on projects and/goals that should stop, start or continue based on lessons learned and feedback from user stories. To be a strategic partner, HR needs to understand the business, speak the language and connect the talent goals to the business priorities. – Sherry Martin, OmniTRAX
6. Listen Fearlessly
To design programs that will have a real impact, the first step is to commit to the skill of "fearless listening." If you ask your people the kind of honest questions you might be afraid to hear the answers to, you will get the kind of quality feedback you are looking for. Fearless listening is the one resolution you need to create programs that will truly resonate with your people in 2019. – Lisa Sterling, Ceridian
7. Help Your People See Their Value
Be a leader. Inspire people. Help people understand the value they bring — not just to your company but to this world. If all of us take a larger approach to life, we can do wonders. We need to start with our own mind and help others clear theirs. A clear and focused mind can transform people, process and technology. – Abhijeet Narvekar, The FerVID Group
8. Practice Hyper-Personalized Leadership
In the new year, shift from the one-size-fits-all HR approach and start practicing hyper-personalized leadership. Better understand your people's unique needs by using advanced survey technology to measure workplace culture and gauge employee sentiment. Most importantly, act upon the feedback you receive and remain flexible with your leadership methods as your company evolves and grows. – Vivian Maza, Ultimate Software
9. Hone Your Relationships With Key Individuals
Now more than ever, it is critical that human resources professionals understand the businesses they help to support. Equally important is the ability to build relationships with key individuals so that we can get to the business of people. If we cannot articulate why people matter and how our policies and programs help support strategic goals, then we cannot help the organization move forward. – Lucy Rivas-Enriquez, Union Rescue Mission – Los Angeles
10. Stop Making Resolutions And Start Making Commitments
HR departments and senior leaders should stop making resolutions and instead make commitments to those initiatives which bring pivotal change that is linked to the organizational strategy. The reality is that resolutions, whether business or personal, are rarely achieved because it's about involvement versus commitment. It's like bacon and eggs. The chicken was involved, but the pig was committed. – Bridgette Wilder, Wilder HR Management & EEO Consulting
This post originally appeared on Forbes.com.